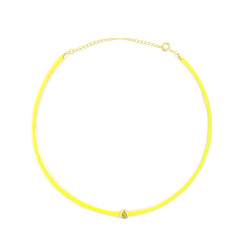 Solar Plexus chakra choker
SKU: 00587
Solar Plexus Chakra- For Will Power
Eshvi's yellow choker was inspired by the qualities associated with Solar Plexus Chakra, which are will power, self-assurance, and passion. If you are in search of uncovering your inner strength and determination, vibrant yellow choker if your perfect choice.
You can keep your Eshvi jewellery looking beautiful for years by following a few simple instructions on jewellery care detailed below:
Remove jewellery when showering or swimming. 

Avoid wearing jewellery when doing physical work.

Never expose jewellery to household cleaning products.

Avoid spraying perfume, hairspray on the gemstones or pearls.

Remove jewellery when applying make-up.

Keep away from extreme temperatures and humidity.

Wash your jewelry in warm water and a mild liquid soap.